Issue 2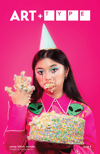 About the issue:
All proceeds from the sales of this issue will be distributed evenly among the 15 contributors (12 artists and 3 writers).
The issue, which is all about "camp, kitsch, and wonder" features 12 exclusive artist interviews, dozens of original images, several poems and writing pieces, and fun extras!
It is 68 pages and is a 5.5 x 8.5 inches in size with a matte lamination finish on the cover and satin finish pages.
Please note, this is a pre-order, and all pre-orders may take up to 2 weeks to be shipped. Once shipped, U.S. orders will take 3-5 business days to arrive, whereas international orders typically take 3-6 weeks.